this is one of the items I get from the recent campaign with Althea.
There are so many things that I want to get, and this is one of the item.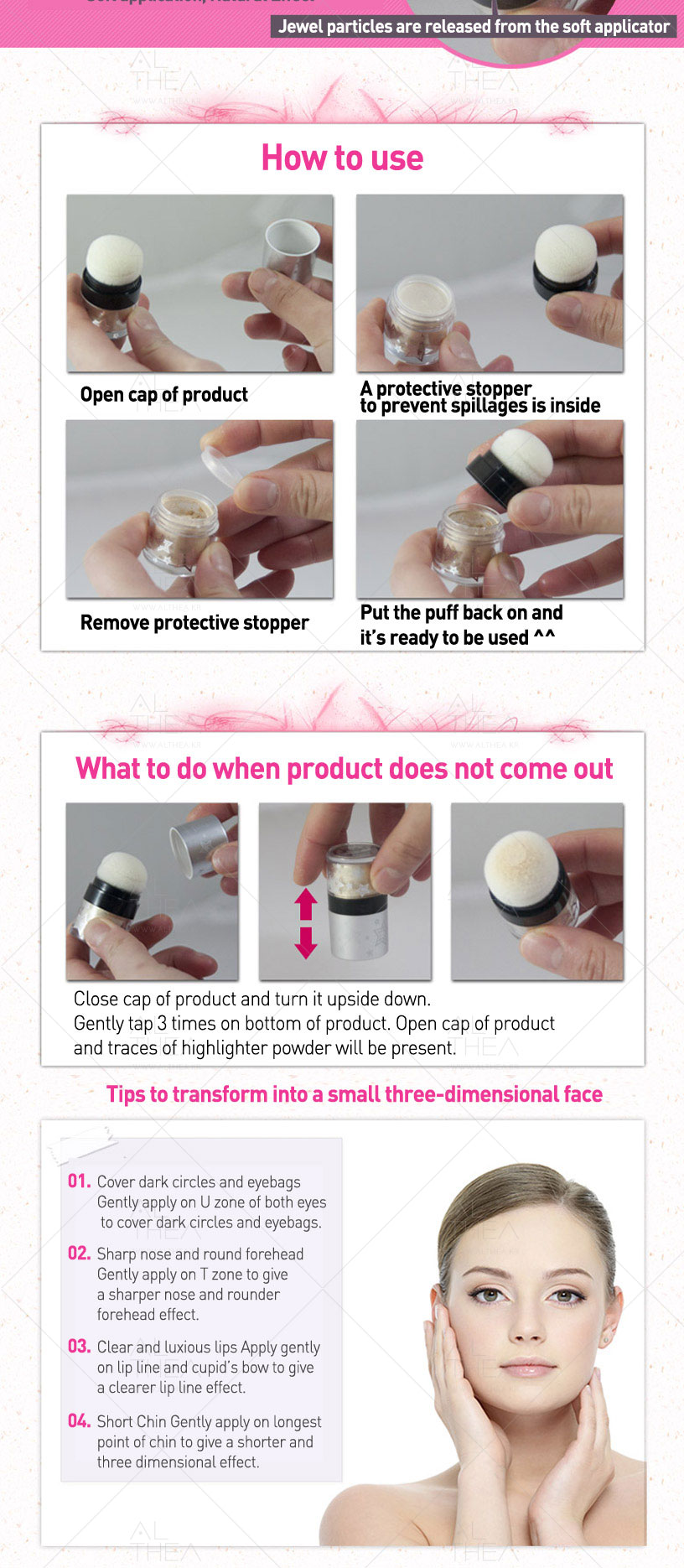 The product itself comes in two shades, pink and white, I chose the white one since I already have one in pink, gold and now I want a highlighter in white aura.

-*-

The product comes in this cute bottle like container and has rounded puff on top. Like mentioned in the image shown at Althea's, open the secure lid inside and the powder can be released to the puff. Shake when they are stuck and I find the puff to work really well and never give me too much highlights.

-*-



The white aura is so pretty, I'm using it on area that I want them to be sparkly and part or the attentions, they are areas such as the tip of the nose, upper cheeks, chin and a bit on the forehead.

-*-



Just shake the product, dab the areas, and the sparkles are there.

-*-



My favorite area are the cheeks, it's a wide areas where when highlighters are added they'll become plumper, more attractive and looks like there's this healthy and beautiful glow from within.

-*-



The aura highlights also reflects the lights better during photoshoots, it made the areas applied appear somewhat glossy.

-*-

Korean loves their skin to appear glossy and has that healthy glow. Their cc, bb, and even dd cream all have the similar type for a glowing effect and they don't really use loose powder like we do. Facial oil also a huge hit there and they are using it to make the skin appear radiance.

The Aura Highlighter by Nella Fantasia helps us by creating the similar effect, without overdo it and no 'sticky' nor greasy feeling as using 'wet' makeup with none or very small powder.

-*-



Some people prefer focusing on the contouring and some are on the highlights. There were this theory on those with light skin should only emphasize on contouring and those with dark skin tone are using highlights more. But for me, I love to use them both in moderation, only to create that gradation and somewhat 3D effects but still appear 'normal' in the flesh.

But as usual, just do as you please, makeup is about personal choices and looking at your best, through your own eyes.

-*-



Thank you Althea for the lovely product, more reviews coming soon!!!