I've been wanting to share everyone about these babies for a while now, as I've been using it for months and really enjoy the product which I think to be one of the best skincare there is.
As a fan of Origins and their holy grail products (which is never one or two) their mega mushrooms are one of my favorite. And they keep improving their formula to a better solution, adding more ingredients and mixture to create a one of a kind skincare that really works.
Here are Origins Mega Mushroom Skin Relief Treatment Lotion and Serum.
One of the reason why Origins are up there is since they are pricey alright. I'm not going to sugar coated my words since every bottle cost around 2 to 3 Dior lipstick, so I'm going to share the product as it is.
They cost as they worth, they really do, they are like the best, you can simply come to their counter and ask them for a skin check or skin routine that fits you best, I can't really comment of the staffs, whether they did a good job or not in providing an ample information or suggesting the right skincare, since I never had that experience, but if you happens to know what your skin need, either hydration, acne care, aging, or like me, sensitivity issue that leads to redness, I'm getting myself a Mega Mushroom Skin Relief that made specifically for redness.
Redness itself doesn't just come as a discoloration, but a problem that occurs on sensitive skin due to many cause from allergy, irritation to even many more. The skin needs proper nutrition, care and solution that calms, protect and nourish while building strength to the cells.
-*-
Formulated with Chaga and Pleurotus Mushrooms and Sea Buckthorn

Helps counteract signs of skin aging

Provides calming and relieving benefits
They keep the details simple, you can simply click on any image and read the full details in each product. There's details written everywhere from the box to the bottle. The details are written in a readable font, not that kind super fine print to be read with magnifying glass.

-*-
A superb-airy soothing treatment lotion

Contains the signature ingredients of Hypsizygus Ulmarius, Cordyceps and Reishi Mushrooms, Ginger, Turmeric and Holy Basil

Fortified with Narcissus Lily Bulb to shield skin against external aggressors
What it is formulated WITHOUT:
- Parabens
- Sulfates
- Phthalates

What else you need to know:
Aging is not simply the passage of time marked by line and wrinkles. Irritation silently simmering with skin's surface may be invisibly aging your skin faster than the candles on your birthday cake. Origins collaborated with Dr. Andrew Weil to create these clinically proven formulas. They rapidly help calm, soothe, and defend skin against visible signs of aging. The result: visible aging slowed. Now that's a relief.
-*-


Like said, both of them works together to soothe, calm, and protect the skin. In the end, the skin will tone down and relaxed, of course, feels very comfortable.

Use the watery treatment lotion first on a cleaned skin. The smell is kinda herbal, an earthy raw mushroom like herbs. It was pleasant and very easy to be used. I'm using it with my hands, cotton pad or a paper mask. It has a unique effect which I instantly feel, kinda rejuvenating. I expect it was something that soothing or calming, but it was pretty energizing, somehow my skin looks like they are suddenly wide awake, fresh and perks up.

-*-





Continues with the serum, a slightly milky creamy gel formula that has a similar scent. But this time it was different too, more calming, soothing and hydrating without forgetting the rejuvenating effect that gives a boost. The skin appear youthful, I see noticeable improvements as well in terms of color, the redness is disappearing, making my skin appear fairer and no uneven skin tone.

-*-

The synergy between these two are great, I wish I have the full collection from daily moisturizer and mask too. I just found out they have changed the name of the product into Skin Relief & Resilience, apparently the product also add the skin flexibility and ability to 'survive'.

The range are created with a collaboration with Dr. Weil, a famous physician and holistic medicine. The principle of using the mega mushroom is this.

-*-





-*-

Dr. Weil believes that the root of all skin problem is irritation, so by calming, soothe and protecting the skin, it has helps the skin in so many ways.

-*-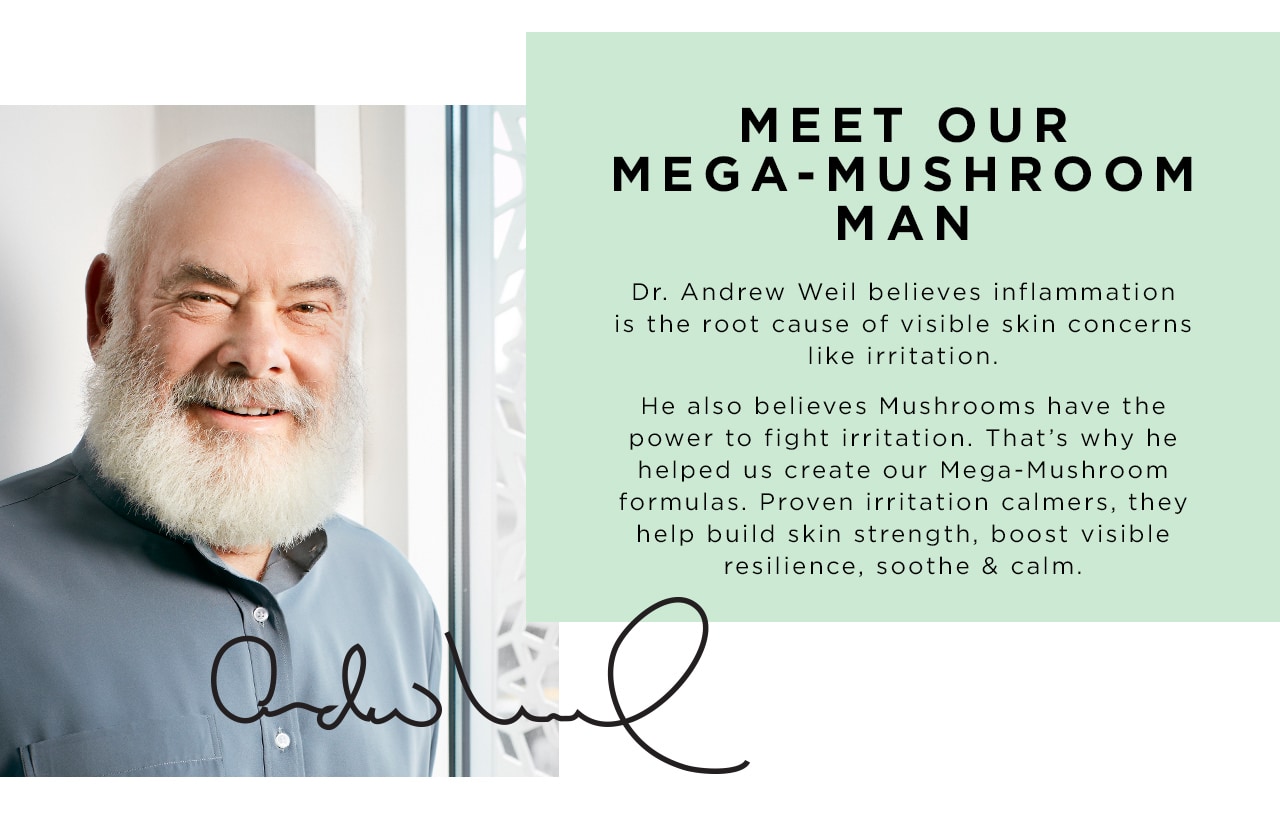 I love the product, the packaging, the sizes that was just right and the powerful ability in it.

-*-



Btw, this treatment lotion can also be used as a face mist, I've been carrying a small bottle of face mist everywhere (can be bought in Miniso or Muji). Spray the lotion anytime for a quick pick me up and the skin will thank you.

-*-


For the serum itself I think it's enough to be used twice daily for AM and PM before a moisturizer. I enjoy using it too and even taking all other anti aging serum as it works even better than them. It has replaced my vit c serum, oils serum and firming ones haha! I turn into an addict using the mega mushroom.

-*-




Overall,

clearly the best skincare set I've used and I will continue using them get some more Origins goodies, it would be like a treat for myself heehee.